Andrew Joyce
︎
Illustrator
Tokyo, Japan
When I get off the train at Nishi-ogikubo in the afternoon, I find myself surrounded by older couples and young kids in uniform. I'm here to meet
Andrew Joyce
, a British illustrator who has made a living in Tokyo for the last 8 years. I meet Andrew just outside the station and he brings me to his workspace – a humble desk that he rents at a co-working space.
What first drew me to Andrew's work was his use of colours. Combined with his distinct line-work, they seem to infuse his illustrations with a tongue-in-cheek playfulness. When I ask about his process, Andrew describes how it has changed over time. Before he'd have the end result in mind and slowly work towards it, but now he is more considerate about the process, slowing down and letting it lead him to the final piece.
This small district in the west part of Tokyo exudes a certain small town charm. Andrew and I chat as he walks me through narrow alleyways and he points out bars and restaurants that will fill up with salarymen after a day of work. Although Andrew's first trip to Tokyo was on a whim, he fell in love with the culture and he tells me he visited Japan every year since then, before moving to Tokyo permanently.
In fact, it was
The Tokyoiter
, Andrew's side project, which led me to contact him. Andrew co-founded
The Tokyoiter
, which is a Japanese tribute to
The New Yorker
and its iconic covers. The faux magazine invites artists and illustrators to create their own covers, inspired by the vibrant city of Tokyo. I was drawn to the diversity of drawings and expressions that feel much like a love letter to the city.
The beauty of a project like
The Tokyoiter
is in its collaboration. Just browse their website and you'll see a myriad of illustration and art styles that all encapsulate a distinct aspect that makes Tokyo unique.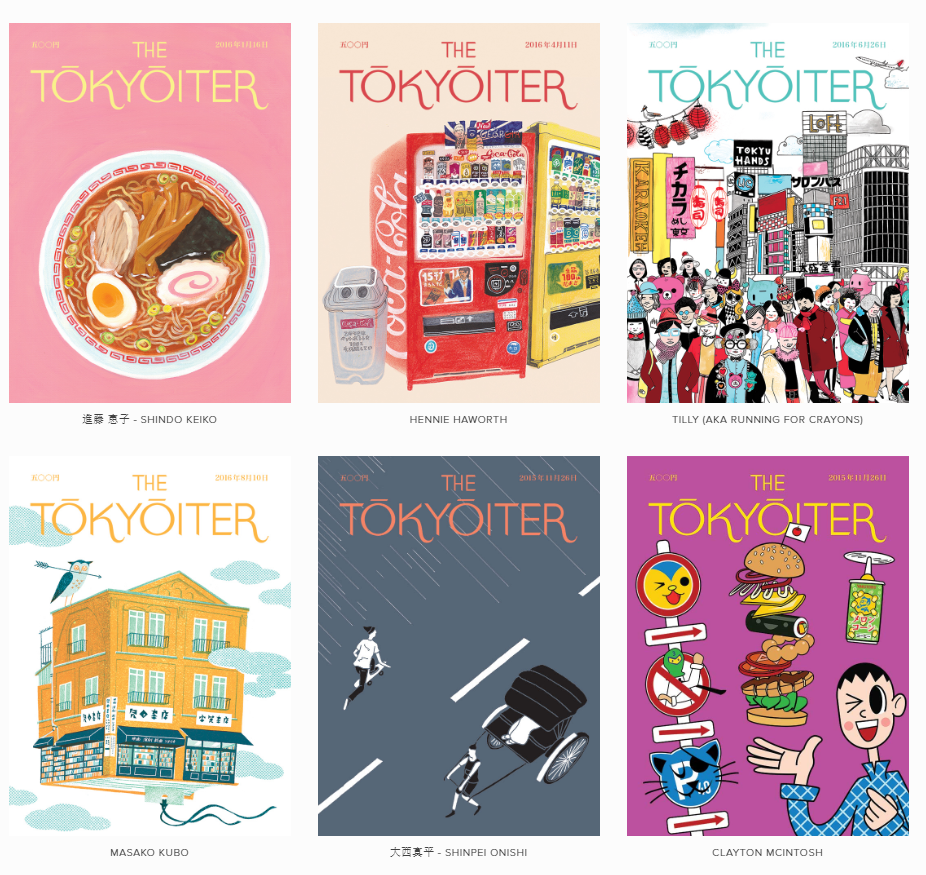 Through our conversation I was a little surprised to find that it was a conscious choice by Andrew to keep The Tokyoiter as a side project. "We have offers to create a book and I know we can probably do it full time, but it will probably stress us out. And I'd rather enjoy this process." At the time of our meeting, The Tokyoiter was on exhibition in Canada.

And Andrew is one to emphasize the benefits of having side projects. His other side project challenges him to visit areas of Tokyo that most people might not be as familiar with. "It's easier to go to the usual spots like Shibuya and Harajuku. And I wanted walk around the less popular spots in Tokyo with the intention of drawing what I find interesting." So far, he's strolled around neighbourhoods like
Naka-Meguro
and
Shibamata
. I'm curious to see where he'll go next.