Carys Wright
︎
illustrator, writer, theatre maker
London, UK
MY FAVOURITE PART of visiting Carys Wright was how we ended up in her local park, where I sat and watched her sketch. Carys is a writer, theatre maker and illustrator based in South East London.

She uses traditional methods and materials, as simple as coloured pencils and paints on paper, and keeps a sketchbook practice. In fact, it was Carys' sketches on Instagram which drew me to her artwork.
At our point of meeting, Carys was in the middle of a 50-day drawing project. She embarked on it in throes of a busy March, when her marketing day job created an "imbalance" she wanted to fix. She challenged herself to draw every day, to keep herself creatively active, and posted it on Instagram (
#caryswrightsketchbook
) so that she could keep herself accountable.
Her motivation for the project was simply to allow herself time and space to play and practice. And naturally, it lifted her moods and helped her unwind from heavy days.
"I feel better after I put something down on paper and get into the flow of drawing."
Carys' source of inspiration comes from her local area, mostly due to the fact that London was on lockdown and the only chance to go outside was to the nearby park for the permitted daily exercise.
In an effort to explore various angles of the same location, Carys would force herself sit on different benches all around the park. "There are a million different ways to draw a park – I don't need to find the perfect view."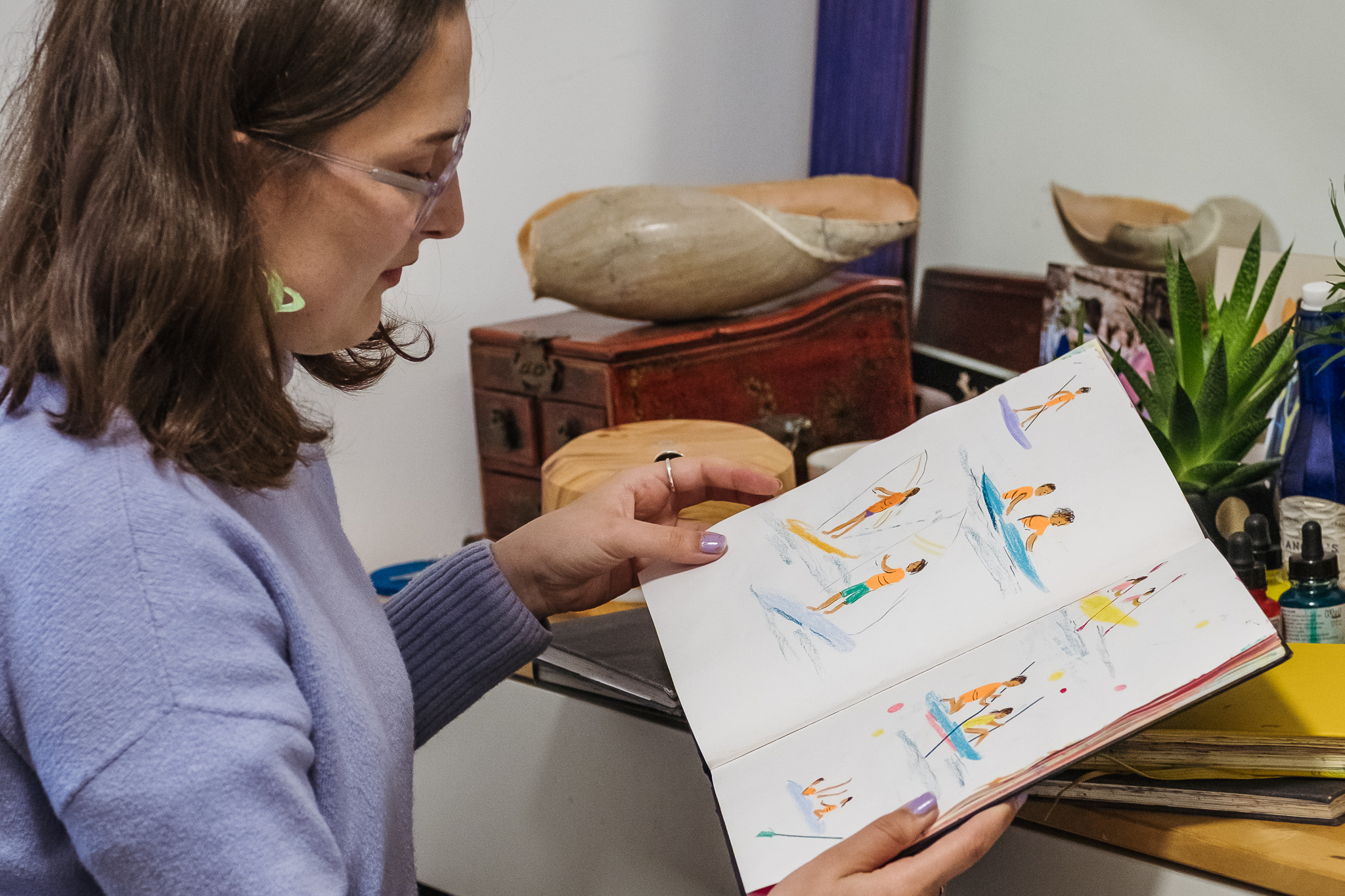 In fact, after Carys shows me her sketchbooks in her home, she invites me to come with her to the park and watch her work. As we find a spot, I hear the noise from a carnival, its lights and colours and kids' excited screams catch my attention. Carys just sits herself down on the patch of grass and gets to work.
Before starting her drawing, Carys does a quick thumbnail sketch. She chooses to start on a page that she's painted yellow - as she says, "it's easier than a blank white page". Drawing out in the open attracts attention too. She says she'll get people or kids who stop to ask what she's doing, and also a curious dog, once in a while.
I really appreciate how Carys spoke so thoughfully about her art. While her sketchbooks help her practise, they also end up as a moodboard of sorts for future projects. From it she references various elements, including clothes, poses and colour pairings.

Regarding materials, she simply says: "there are no perfect materials, just the ones that give you less pressure so you won't delay." On this trip to the park, she brings paints, markers and ink to make her outlines. You can also read about her reflections on her 50-day project on her
blog
.
"I have learnt to follow my nose in terms of what I think looks good."
Watching Carys as she puts her final touches on her drawing, I find myself in great admiration of her discipline to push herself to get better, one small drawing at a time. At the end of the day, it is all we can ask for - one day at a time.