Ghaleb Hawila

︎
Calligraphy Artist
Beirut, Lebanon


Visiting Beirut earlier this year, I grabbed at the chance to meet Ghaleb Hawila, a calligraphy artist, in his home studio. Ghaleb's work caught my eye in the way he actively challenges the norms of traditional Arabic calligraphy and turns it into extraordinary pieces of art. Classical in essence, Ghaleb manages to inject his own signature into each art piece. To him, he's translating his own personality and history into a visual language.

While sitting on the front porch of his home studio, Ghaleb told me how he got into calligraphy. It was while he was studying graphic design when he came across what he felt was a gap in typography, specifically between what was being taught and his identity as an Arab. This desire led to him set aside the computer and start learning classical Arabic calligraphy. The hunger grew into an obsession, and soon enough Ghaleb's efforts yielded unmistakable results, and he started getting calligraphy jobs from family, friends and even from his design school.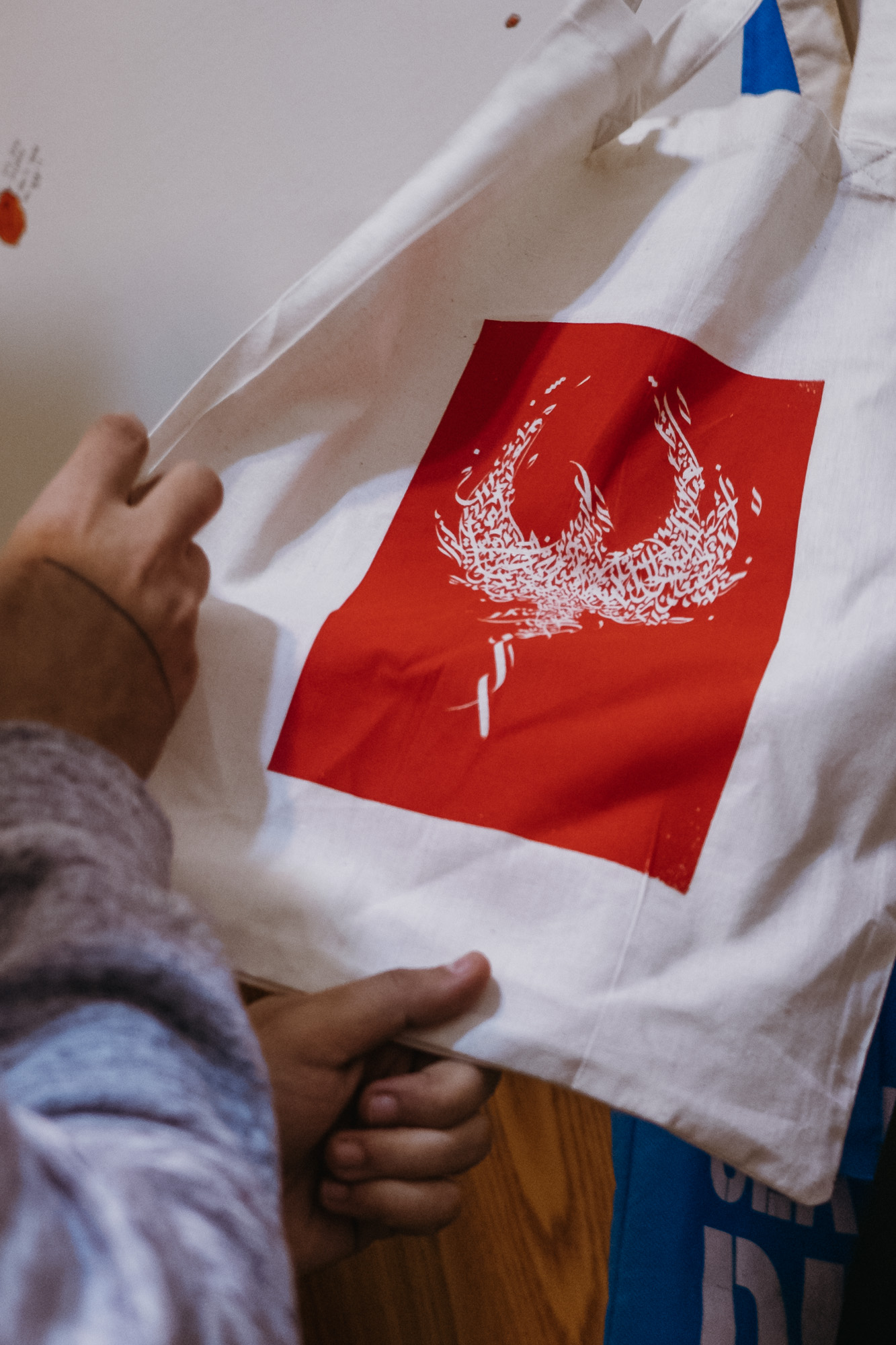 I ask Ghaleb how he'd describe his style and he cheekily replied: "Too haram for halal people and too halal for haram people".

Around his home studio, you'll find stacks of his calligraphic work, in-progress pieces as well as finished frames from his own personal experiments and exhibitions. Everywhere I turn, there are words and styles which make me wish I knew how to read or decipher the language. I feel immersed in a visual language that is both medium and message.
When we met in March 2020, Ghaleb's artwork titled "Nuqta" was exhibiting at the French Cultural Center in Beirut. This same work had represented Lebanon in 2018 at the Sharjah Calligraphy Biennale. Its name, "Nuqta", refers to a point in Arabic language which forms the basis of Arabic lettering, and is the unit of measurement from which all letterforms are derived. Ghaleb's brilliant conceptualisation saw "Nuqta" presented in various forms: a cubic wooden installation, four canvases that represented elements of life, as well as combinations of letters from the Koran. To date, it was one of his biggest projects, and in a totally new and different style than what he's used to.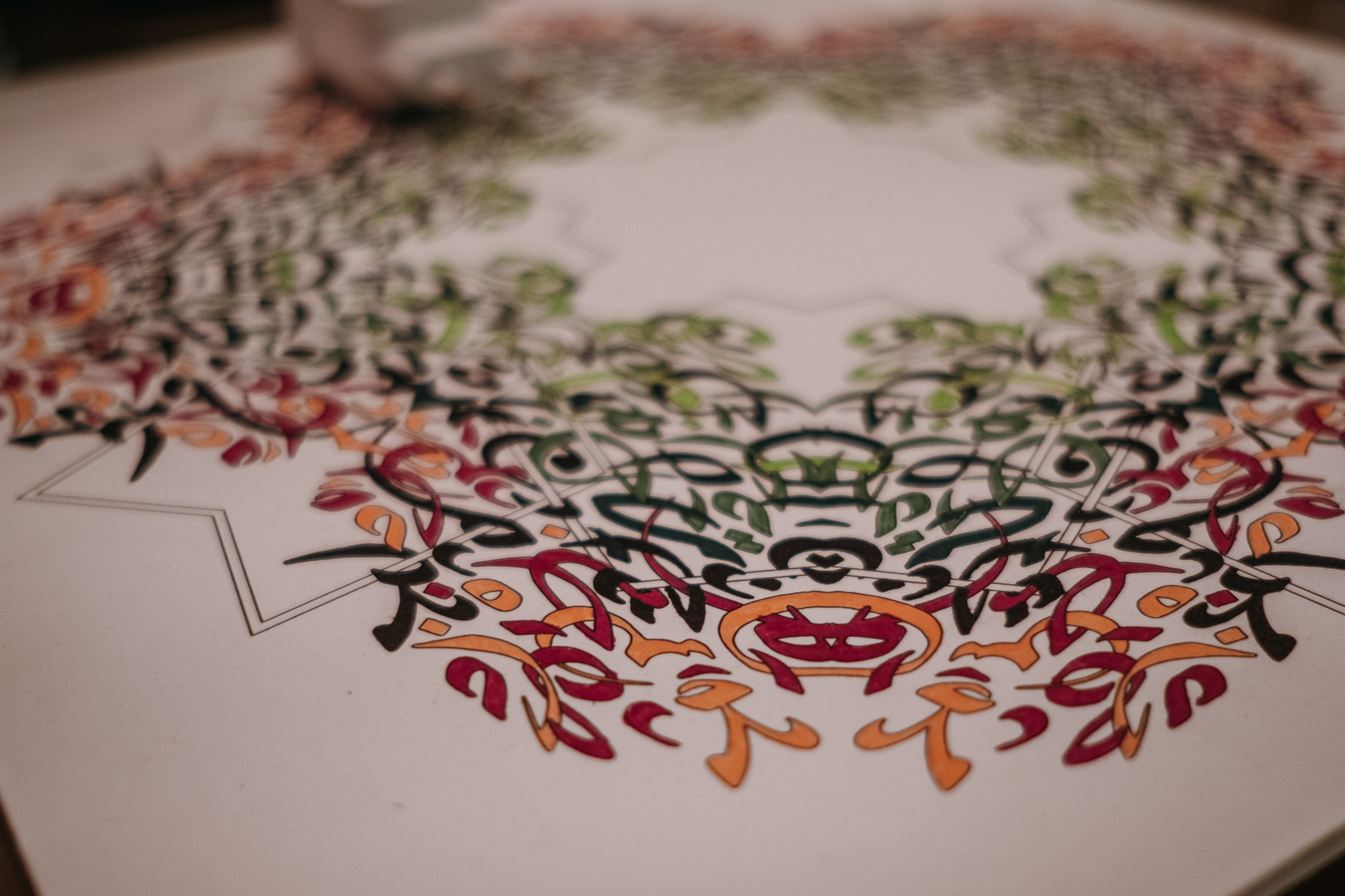 While the country of Lebanon is in the midst of its own throes of revolution, I wonder if it would be a stretch to say that Ghaleb's way of doing art is the same. While speaking to him, I sense that he is full of a boundless, creative energy which makes him seem as if he is constantly on the move to his next project. "Art is always both a revolution and an evolution", he says. While he works within existing boundaries of calligraphy, he sees them as challenges for him to push his style and experiment with.
"When you commit to something,
it will give you a reward."

Ghaleb's commitment to and passion for his calligraphy has opened many doors for him. Apart from private commissions, he has had opportunities to teach workshops, collaborate with other artists, corporate brands and even international NGOs. I'm amazed at how relentless his drive is to push the limits of his craft. He says, "I just experiment with my art and things started unfolding in a beautiful way."
"People invest in potentials, not the readymade."
Speaking to Ghaleb was inspiring. His confidence in his craft along with his drive to experiment with new styles and forms energizes me to want to get better at my own art. What's most impactful is how he humbly feels that he's not reached his peak and promises to keep working at it no matter his surrounding circumstances.
(On 4 August 2020, the city of Beirut faced tragedy with one of the biggest non-nuclear explosions in history. A massive amount of ammonium nitrate stored at the port exploded, causing over 200 deaths, over 6000 injured, and over 300,000 people homeless. When I checked in on Ghaleb shortly after the blast, he dropped me a voice message ensuring me that he was safe and telling me that he had joined groups of citizen volunteers as they headed to clean up affected areas in Beirut.)
Follow:
Ghaleb Hawila
https://www.instagram.com/g.hawila
︎
Visited March 2020, published October 2020.