Marion Bretagne

︎
creative designer, visual artist
founder of Sonriso Studio
Madrid, Spain
Last March in
Madrid, just before the pandemic spiralled out of control, I had the pleasure of visiting
Marion Bretagne
and her then-newly founded Sonriso studio, a risograph printing studio and independent art press housed in Ruda Studio.
As we settled down for a conversation, Marion spoke about her beginnings as a self-taught designer. Despite choosing to study English Literature in University, she found herself consistently expressing herself through art and design. This inclination led to a job doing editorial design before she took the leap and became a full-time creative designer.
I find the way Marion is so open to sharing her work both generous and refreshing. "I'm not a one sketchbook type of person, because it usually ends up being my to-do list. I rather have a folder where I can gather everything I work on." At a quick glance, her folder is a riot of colours, reflecting her preference for spontaneity and experimentation.
Apart from using pencil, pastels and watercolours, she also does monoprints, a time sensitive technique that forces the artist to be intuitive and spontaneous. She even has a jewellery line and is exploring the idea of printing on homewares like lampshades, all of which are thrifted or second-hand.
"My personality seems to reflect in my work and style. I love making things by hand, getting messy and making it colourful."
Q: So how did she end up setting up Sonriso?

According to Marion, she had always enjoyed printing, but she had struggled to find a place to do so in Madrid. When she decided to go freelance in 2019, she jumped at the chance to buy the riso machine second hand. Despite being unfamiliar with using it, she didn't feel it was a big risk and put her mind to learning and mastering the technique.
Risography works similar to screen printing – it has a duplicator that creates stencils and prints one colour at a time. The superimposition and overlapping of colours creates chances for play and to create new colours. Marion showed me how it worked with the four colours she had on hand - a fluorescent pink, blue, black and yellow. The soy-based ink goes through the machine to produce a bright, grainy effect, which reminds me of film.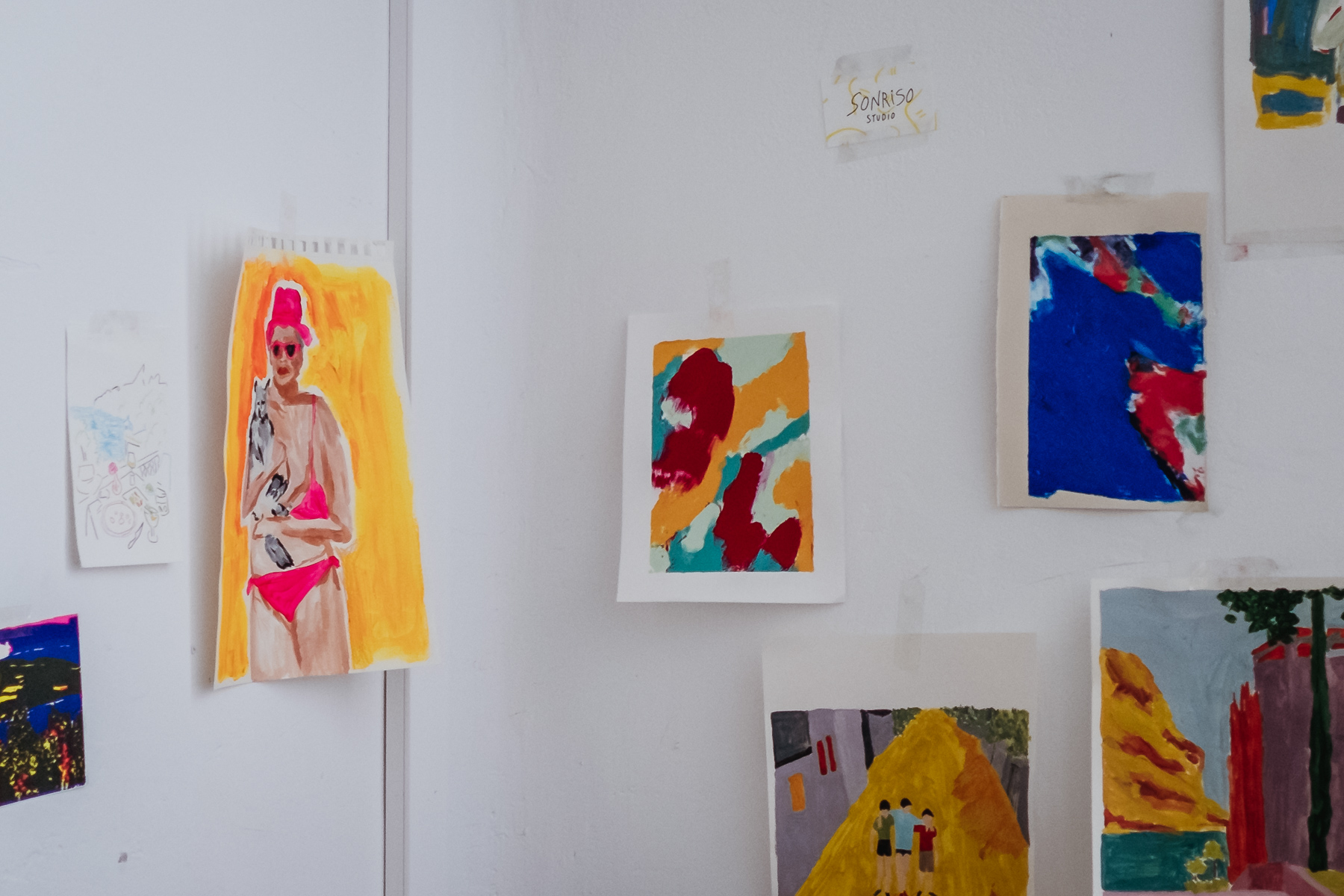 "My style will keep changing and I am learning to make peace with that."
One of the first publications for Sonriso was a zine collaboration with designer Miki Lowe. "The one-day project was extremely fun and organic, and though the finished product is imperfect, it was a great experiment." I'm happy to see that since our chat and despite the pandemic, Marion continues to successfully collaborate and produce more brilliant, striking work under Sonriso.
As we wrapped up our meeting, I find myself in admiration of Marion's confidence in her craft and also her self-awareness that her art is still a work-in-progress. "My style will keep changing and I am learning to make peace with that." I love how much she invests in her craft and is boldly taking on new challenges as they come.