YIME IS GREAT

︎
illustrator
Madrid, Spain


It feels like a long time ago, but I remember taking a long walk to Yime's studio after having some churros in Madrid in March 2020. The studio is hard to miss, with the exterior walls designed with lines that vaguely resemble confetti. On hindsight, perhaps it wasn't surprising that Yime had been the only one in the studio that day, since the news of covid-19 in Madrid was just starting to pick up.

We got straight to chatting as Yime offered his story right from the get-go. Yime's current work might surprise you, especially when you consider that he studied fine art in university and was leaning towards a career in realist paintings. By contrast, the illustrations he creates now are exaggerated and cartoonish, highlighting the mundane yet absurd in everyday life.


At our time of meeting, he was working on his own satirical comic strip about a CEO billionaire, which he calls "my kind of silly humour". With cartoons as his medium, Yime manages to speak to the inequalities he witnesses in everyday life.



When asked whether he has any dream projects, an animated show is his immediate reply.

"It will be like South Park, something simple and sarcastic. But for now, it is still a pipe dream that I'm working towards eventually."


"I'm not great with words or plot so I use my images
to process and think through issues."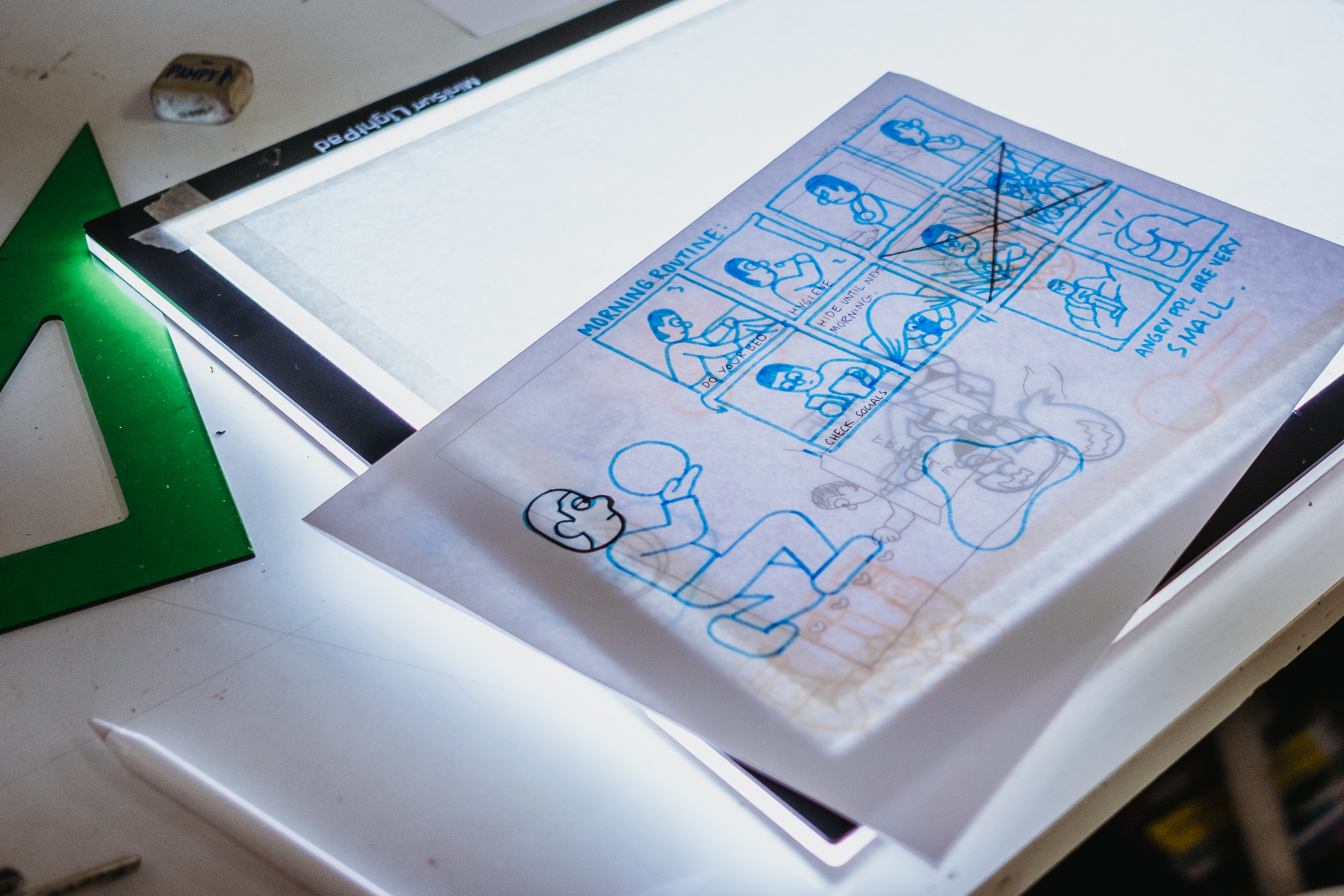 Yime's illustration process begins organically and by hand. Bringing a sketchbook with him wherever he goes, Yime uses pen and paper to jot down or sketch out ideas. "Digital can look too perfect", which is why he chooses to do all of his personal work by hand before finishing up the colouring digitally.
In his illustration, Yime likes to prioritise clarity. By using simple shapes, he allows his illustrations to be easily identifiable at first glance.

"Most illustrations are usually of beautiful things but mine isn't always beautiful. I would rather lean into the humour and the meaningful."

For Yime, three years of freelancing have been an emotional rollercoaster. He admits he swings between the extremes of worrying that people have forgotten about him and them thinking that he's "the sh*t".

There are also necessities that come with being an artist in this day and age: learning how to be organized, how to market himself and how to be stylistically consistent - things that he says he is slowly getting better at, day by day.
Yet one thing doesn't change: Yime has always and will continue to carry a sketchbook with him as he goes on his daily commute. Putting pen to paper is his way of processing the world as it happens around him.
Follow:
YIME
https://yimeisgreat.com
https://www.instagram.com/yimeisgreat
︎
Visited March 2020, published January 2022.